Amigaos 3.9 Adf
Amigaos 3 9 Adf Scanning. AmigaOS 3.9 is the update forAmiga OS 3.5- but it can also be installed directly on top of anAmiga OS 3.1 system. I thought of uploading a quick video of how to install 3.9 u. Kickstart 3.9 Information Kickstart 3.9? There wasn't an official Kickstart 3.9 ROM released by Commodore, or any other Amiga company. Kickstart 3.9 is instead is a. Amigaos 3.9 Adf Download. Likewise, AmigaOS has influenced. Download Amiga OS 3.9 ISO for free from this site.
Or: My Amiga DownUpGrade Journey

A1200 hardware specs:
Rev 2B A1200 Board (all timing fixes carried out)

Clip over PCMCIA fix (Gayle)
Indivision AGA Mk2CR
EZ-DF0 PC to Amiga Floppy drive adapter
Cocolino PS2 Mouse adapter

Blizzard 1260 @ 50Mhz
Mediator TX (6 PCI slots and ATX power supply support)

3DFX Voodoo 3 2000 (16MB)
Creative SoundBlaster PCI128
Realtek 100Mbps Fast Ethernet
Elbox Spider II (NEC) USB 2.0 Card
Bigfoot Networks K1 NIC (Used as PPC co-processor)

333Mhz PowerPC processor
64MB RAM

Power Computing Power Tower

Seagate Barracuda 80GB
Toshiba DVD-RW Drive
Iomega Zip 100
Corsair CMPSU-400CX 400W ATX PSU

Iiyama ProLite E1902S

1280×1024 native
DVI x 1 (Indivision) VGA x 1 (Voodoo) Audio x 1

A4000 Keyboard
Microsoft Basic Optical Mouse
A1200 software specs (Before):
AmigaOS 3.9

IDEFix (via LoadIDE in startup-sequence)
BB1/2/3/4 applied
Picasso96
So many other small tweaks on top it's not funny …
A1200 software specs (After):
AmigaOS 3.1.4

IDEFix (via LoadIDE in startup-sequence) [Kept for easy ZIP drive use]

Picasso96
Less small tweaks than before! Woohoo!
Hardware Changes
Besides installing the ROMs themselves, there was only one other change needed. On the Mediator I needed to change the CONFIG jumper from OPEN to CLOSED – note that this is the exact opposite of what is needed for 3.1 ROMs.
Software Changes
Being inherently lazy, the last thing I wanted to do was a start from scratch install. I had the system in a place where I really liked my setup, and so decided to see what I needed to do in order to get things going by mixing the 3.1.4 release into my current 3.9 install.
From the Workbench disk (or ADF) I copied the contents of the C folder to my current SYS:C folder, overwriting any older versions I already had with those from the 3.1.4 release. I then copied LoadModule from the Modules disk (or ADF) C folder to SYS:C. This means I would now be using the new 3.1.4 versions of LoadModule and SetPatch.

I also copied over the new intuition.library (the file on the Modules disk is called intuition-v45.library) from the Modules disk (or ADF) into LIBS: – this new version allows offscreen windows. This seems a small thing, but makes a huge difference in workbench usability!
Note that it's also worth grabbing the rest of the libraries, there are small bugfixes throughout many of them. I moved these over (checking version numbers to ensure they were newer) one at a time. So far, the only issue encountered is that the new workbench.library uses rexxsyslib.library to read, set and modify script variables. So make sure you bring both libraries over when copying.
In my S:startup-sequence I edited the SetPatch line to read:
as per the FAQ provided with 3.1.4 – I also removed MuMove4K and PoolMem from the SS – as MuMove4K was no longer needed, and PoolMem seemed to cause issues on boot.

I then edited my LoadModule line which was, admittedly, huge – this was simply due to the amount of components I was updating on the fly from disk. The new LoadModule line is a lot simpler:
NOTE: The NOMEMFKICK argument I'm using is to prevent LoadModule putting things into Chip RAM – I suspect this may only be required in conjunction with my Blizzard 1260. I would suggest that if you do not have a Blizzard, you try this without the NOMEMFKICK first.
Finally I switched the machine off, and left it for a minute or two, as I wanted to make sure any reset-resident patches were definitely gone. And then, crossing my fingers, I started the machine – perhaps cheering slightly as it booted up without error, this process giving me a functional and incredibly pleasant to use system.

Finally, here's a listing of my current Startup-Sequence:
Summer Holidays:We're taking a few days off. Orders can still be placed and will be shipped (albeit a little slower), but there will be no support until September.Shipping Restrictions:There are currently shipping restrictions imposed due to theSARS-CoV-2 pandemic which may lead to delays of shipmentsoutside of Europe.
Get boinged!
OS 3.9 Functions
Multimedia programs (MP3 player, AVI & QT player, new CD player)
Web browser AWEB 3.4 SE (new version)
GENESIS (full Internet and network access)
AmiDOCK (new program start bar)
WarpOS 5.0 (new version)
IomegaTools (for Zip and Jaz)
new powerful Shell (with extensive prefs)
automatic datatype recognition
integrated unpacker (lha, lzx, dms, zip..)
fast search (search for, and in files)
new picture datatype (PPC-optimized)
many new Tools (ASLPrefs, new Info requester, new watch, font cache, new color wheel, etc.)
extensive HTML documentation (in English and German)
This list only shows the main features of Amiga OS 3.9.
System Requirements
AmigaOS 3.9's hardware requirements are identical to that ofAmiga OS 3.5.AmigaOS 3.9 is a software-only Update w/o ROMs (however, it requiresKickstart 3.1 ROMs to operate!)
AmigaOS 3.9 is the update forAmiga OS 3.5-- but it can also be installed directly on top of anAmiga OS 3.1 system.
Minimum Requirements:
CD-ROM drive
Hard drive
68020 or higher processor
Amiga 3.1 ROMs (version 40.xx)
6 MB Fast RAM
For improved performance, we recommend:
68030 or higher processor
8 MB Fast RAM
Graphics accelerator and/or scandoubler
Modem
To take full advantage of OS 3.9 we also recommend you add the following:
68060 processor with PowerPC accelerator card
16-bit sound card
32 MB Fast RAM
I/O Accelerator
Features of AmigaOS 3.9
Workbench
AsyncWB - adds asynchronous copying and delete functionality to Workbench
ACTION - AVI & Quicktime Player
plays AVI and Quicktime videos
highly optimized 68k version
AMPlifier - MP3/WAV/AIFF Player
plays MP3, WAV, and AIFF sound files
paulaaudio.device (there is no need to install AHI)
MPEGA.Library - Software MP3 Decoder
68k and PPC version
PlayCD - New CD Player
plays music CDs
new animated skin system
programmable
CacheCDFS - CD ROM Support (*3.5)
CacheCDFS - CD-ROM File System
ISO9660, RockRidge, Joliet (Win 95/98) and MAC HFS compatible
supports Amiga protection bit and file comments
MultiSession CD-ROM support
CDFSPrefs - Preferences tool for CacheCDFS
BootCacheCDFS - Loads CacheCDFS reset resident for JumpStart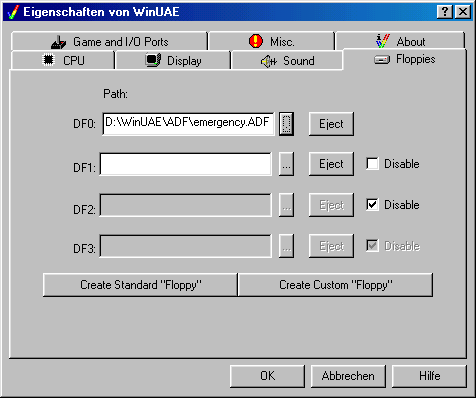 Autoboot InstallCDFS - Installer script for easy installation of CD-ROMs
FindDevice - Tool to search for connected CD-ROM drives
AWEB 3.4 Special Edition - Internet Browser
works online and offline
supports HTML 3.0 and most of HTML 4.0
supports JavaScript
Internet / Network Access - TCP/IP Stack
connects your Amiga to the Internet
easy selection of Internet Service Providers
connects to other computers (LAN)
full version; no time-limit
AmigaMAIL - E-Mail Client (*3.5)
easy to configure and use
based on the e-mail library
AmiDOCK - Program Start Bar
easy to use program start tool like the Apple "Klickstarter", but far more powerful
add new programs with drag & drop
RAWBInfo & several other tools
RAWBInfo - a powerful new info requester
NewIconEmu - emulates NewIcons on the new system
colorwheel.gadget - new color wheel with true color support
gradientslider.gadget - new gradient slider
string.gadget - new string gadget with lots of functions
ASLPatch - a new file selector
Automatic file type recognition
DefIcons is a powerful system that defines which application is launched when a file is double-clicked
very flexible and powerful
Improved Libraries & System Tools
new icon.library
patches to workbench.library
patches to intuition.library
Amigaos 3.9 Adf Download
new API functionality
additional products
Find & Clock
Find tool (files, and within files)
Workbench clock (Animated Icon)
new text.datatype
IomegaTools - tools for Zip and Jazz drivesNew Shell & many other tools
ViNCEd - powerful Shell with history, etc.
diskfont.library - bugfixes and new font caching
FixFonts - cache management
More - bugfixes
BenchTrash - new trashcan
mathieeedoubbas - bugfixes
mathieeedoubtrans - bugfixes
mathieeesingtrans - bugfixes
rexxmathlib.library
Unpacker Tool
tool to support the DefIcon system and xad.library
decrunches lha, lzx, zip and many others
easy to use
XAD Library - Universal Decruncher System
decrunches lha, lzx, zip and many others
Picture Datatype - New Improved Version
PowerPC/68K fat binary
supports picture scaling
Improved Prefs
Workbench - new features: title bar on/off, icons in FastRAM, fuel gauge on/off, etc.
IPrefs - now uses the scaling features of the new picture datatype & 1:1 aspect ratio of all window borders
Amigaos 3.9 Adf X
AHI prefs
ScreenMode prefs - added Test button
WBPattern - select button for scaling feature
IControl
Glow Icons - New Icon Style (*3.5)
new complete icon set for all system tools
new icons for most applications
WarpOS - New Version
Amigaos 3.9 Adf Error
WarpOS PowerPC support
AmigaOS compatible integration
extensive functionality
hardware independent driver system
WarpOS prefs
direct control over the features of WarpOS
HDToolBox - Harddisk Toolkit (*3.5)
scanning the SCSI bus
read the physical information of the hard disk
read/write the logical information (RDB)
create Mount files
read special Mount entries to restore the RDB
HDToolBox application that uses the low-level library
new GUI style
NSDPatch -Support for Harddisks >4GB (*3.5)
L:FastFileSystem - adds 64-bit support according to the new style device based trackdisk64 standard
Amigaos 3.9 Adf X
NSDPatch - integrated into SetPatch
implements a standard for 64-bit devices
adds support for NSD to a lot of standard and third-party devices (many different scsi devices, ide devices ..)
allows access to partitions and disks > 4GB
fixes bugs in certain devices (mfm.device, some SANA II devices)
HDwrench.library (*3.5)
supports drives beyond 4 gigabytes, up to the limit of SCSI disk addressability
Text-Editor-Gadget (*3.5)
supports ReAction/ClassAct
support for text styles (bold, italic & underline)
multi-level undo & redo
support for alignment (left, center & right)
separators with an optional title
supports marking via the mouse or the keyboard (using shift)
supports all types of fonts (proportional, fixed, even colour fonts)
floating wordwrap, i.e. text automatically reflows if you resize the window (though optional hard-wrap is also possible)
interface for arexx support
(*3.5) These programs were already part ofOS 3.5
| | |
| --- | --- |
| Bookmark (English/englisch): | https://www.vesalia.de/e_os39.htm |
| Bookmark (German/deutsch): | https://www.vesalia.de/d_os39.htm |